Design Thinking
Master Class
ExperienceInnovation™ Certification
September 10–12, 2019
Partnered with Morehouse College Innovation & Entrepreneurship Center, Atlanta GA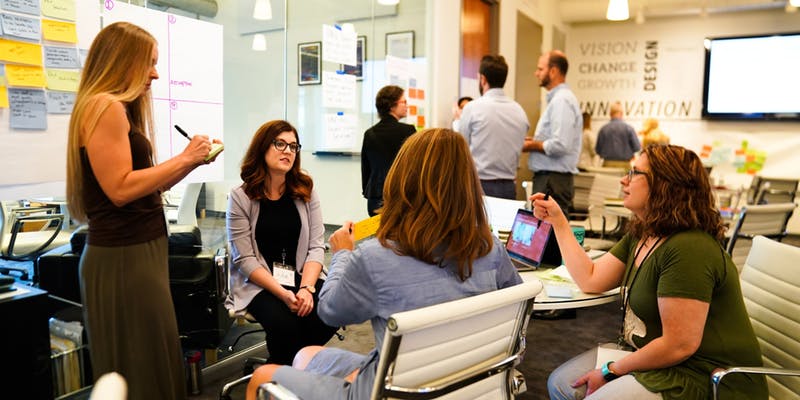 Bridge Innovate is pleased to partner with Morehouse Innovation & Entrepreneurship Center to host the Design Thinking Master Class.
Designed as a 3-day immersive in-person experience, the Design Thinking Master Class will provide you with in-depth learning on each step of the human-centered design process: defining the challenge, tools for gathering empathy, forming insights, techniques for brainstorming, and the tools of prototyping and testing.
You will be equipped with training and resources to teach, coach, and lead others through the design thinking journey, as well as how to cultivate great, design-driven ideas and implement them in an organization of any size.
Design-driven companies outperform the rest of the S&P Index by 211 percent, according to the Design Value Index. Creating a design-driven culture means putting customers at the heart of everything you do.
Dive deeper on the design thinking innovation process to tackle challenges on your own and further integrate this methodology and mindset into your work culture. Be a catalyst for launching a design-driven culture in your organization!
Watch this short video to see what it's all about:
Expectations & Outcomes
A 3-Day in-person immersive experience at Morehouse College in Atlanta, Georgia

You'll be certified to facilitate ExperienceInnovation™ | Aware & ExperienceInnovation™ | Learn

You'll be able to test drive SprintBase™, a new online design sprint platform for teams

You'll learn how to leverage these tools as part of your current or future innovation services

You'll be ready to apply the design thinking innovation process on real business projects

You'll be a strong in-house resource and support for your people to create new, innovative solutions
Single Sessions Also Available
September 10 (5:00 PM - 9:00 PM)
ExperienceInnovation™ Learn
Tackle a design challenge in a team-based competition. By the end, you'll be ready to apply design thinking principles immediately to solve challenges and support a culture of innovation.
September 11 (9:00 AM - 10:30 AM)
ExperienceInnovation™ Aware
This hands-on, 90-minute workshop highlights how to bring creative habits like deep user empathy, radical collaboration and rapid experimentation to one's work every day.
DAY ONE | 9.10.19
4:30pm
Doors Open
5:00pm
ExperienceInnovation™ Learn
- Design Thinking Intro
- Finding Opportunities
- Creating Solutions
- Debrief & Application
9:00pm
Adjourn
DAY TWO | 9.11.19
8:30am
Doors Open & Continental Breakfast
9:00am
ExperienceInnovation™ Aware
- Inspire New Thinking
- Imagine Solutions
- Implement New Ideas
10:30am
Sprintbase Test Drive
11:30am
Lunch
12:30pm
Deep Dive into Experienceinnovation™ Learn
3:00pm
Teach Back Experienceinnovation™ Learn
4:30pm
Adjourn
DAY THREE | 9.12.19
8:30am
Doors Open & Continental Breakfast
9:00am
Teach Back Experienceinnovation™ Aware
11:30am
Reflection & Next Steps
12:00pm
Adjourn
Master Class Community
As a graduate of Bridge Innovate's Design Thinking Master Class, you join our community of design thinking facilitators with access to webinars and one-on-one coaching to help you continue your innovation journey!
Companies putting it into practice.
"ExperienceInnovation™ has replaced modules that we've done in the past on innovation. You can really see that the skills learned are being used on the job".
Keith Halperin, Korn Ferry

"It is a comprehensive methodology delivered through an exciting interactive online session based within a classroom environment generating a great energy and positive approach to innovation."
Is this course right for you?
Do you have facilitation experience?
An ambitious, dynamic, facilitator with a passion for developing the capability of others

Delivers great workshop experiences that participants and clients can't stop talking about

Captures the imagination of a room full of people and keep them engaged for hours
Do you have design thinking and/or Change knowledge?
From your existing knowledge of design thinking and/or organizational change, you find these topics not only fascinating to talk about, but also passionately believe they are important methods to help address challenges facing businesses today

Natural learning mindset and hungry to master new topics
Register
If you have any questions contact us and we'll be happy to answer questions and walk you through details. Email Mary Kim at mkim@bridgeinnovate.com