Community Vibrancy
Fueling social transformation and growth through human-centered design.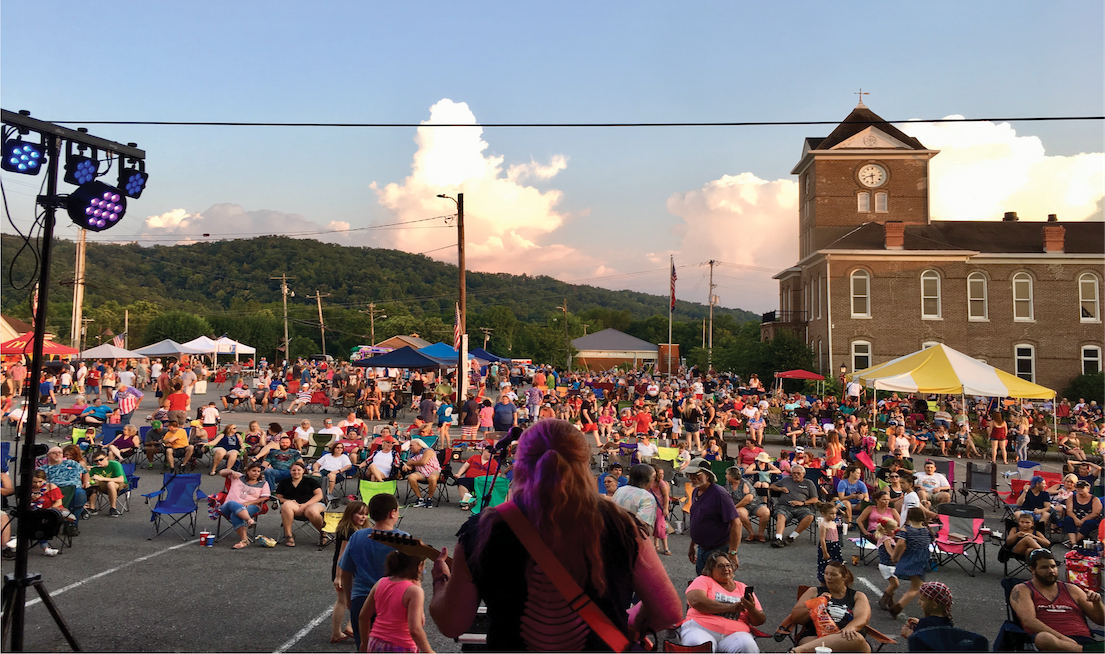 Using human, physical, and cultural assets to enhance the social and civic fabric of a place, community vibrancy builds on a distinctive local character and story. It is a long-term, partnership-based strategy that results from a commitment to social equity and meaningful life for its residents, as well as an interesting experience for visitors and a stronger economic base for the area.
(Source: Creative Community Builder's Handbook by Tom Borrup)
Innovation Tools to Help Communities Creatively Shape Their Future
What does it take to create a distinctive sense of place that fuels economic growth? How do you go about reimagining and reshaping the assets your community can offer to residents and guests? Moving easily from global to local, public to private, and for-profit to non-profit, design thinking is an adaptable pathway to innovation that cuts across industry and sector.
Pulling from our expertise in design thinking, strategy, change theory, asset-based mapping, and development, we help organizations understand how human-centered design can be a meaningful method for creating community vibrancy and social change. Each step of the design thinking process provides communities with a dynamic framework to help get efforts off the ground and bring visions to life.
From providing thought leadership and bringing the right people together, to coaching your organization or community through the design thinking process, and connecting you to unique programs like Bright Spark™ for an extra surge of creativity, we meet you at your point of need with an innovative spark to ignite your community vibrancy journey.
Creative Placemaking: Thought Leadership & Education
With a depth of knowledge on innovation and transformation, Bridge provides thought leadership and education opportunities within the creative placemaking community.
From hosting webinars, to leading workshops and delivering keynote sessions, our team has presented at conferences, such as the National Consortium for Creative Placemaking's Southeast Regional Summit and the the Tennessee Arts & Arts Education Conference.
Sharing our expertise with like-minded leaders, we teach organizations about tangible tools and techniques they can easily and quickly use to launch and accelerate their creative placemaking work. Some of our favorite presentation topics include:
How to Build Creative Placemaking Momentum, Excitement, and Engagement by Using Small Scale Experiments to Test Ideas

Train the Trainer. Think Like a Designer: A Session for Educators
Bridge Innovate® Principal, Tamara Gatchell, leads our creative placemaking efforts. Learn more about Tamara and her work.
Connect | Convene | Collaborate
Bridge has a proven track record of helping organizations find alignment, providing a creative space to connect and convene around a common vision/mission, and facilitating a collaborative process to help mobilize a path forward for creating community vibrancy.
We also help communities identify key collaboration partners, pinpoint the specific needs, wants, and pain-points of critical stakeholder segments, and build an engagement strategy where communities can leverage these relationships to expand their impact.
Innovation Coaching
Sometimes, knowing where to start can be a struggle, and the thought of launching out alone can be daunting. No need to fear. Our innovation coaches are here to help!
We provide coaching services to guide community teams and organizations through each step of the process:
Knowledge scanning and empathy building activities (immerse, engage, observe, research) in the Inspire phase.

Creating a vibrancy strategy in the Design phase.

Conducting small-scale experiments in the Test phase.

And finally, crafting a compelling pitch to key stakeholders and potential funders.
Bright Spark™ Student Design Competition Sponsorship
Want to get the wheels of inspiration turning? What better way to tackle community transformation than to engage the next generation of innovators as a component of your community vibrancy process?
Bright Spark is Bridge Innovate's social innovation initiative designed to ignite creative confidence with students and educators through design thinking. Bright Spark offers project-based learning competitions for students to solve real-world challenges while developing lifelong, marketable skills.
Check out highlights from past Student Design Competitions:
2018-2019 - Program partner, United Way of Greater Chattanooga, sponsored the challenge: How might we build connected communities to help students and families in need thrive?

2017-2018 - Program partner, Thrive Regional Partnership, sponsored the challenge: How might we reimagine transportation of the future?
Join us in the quest to use innovation for good and imagine how you and your organization could help impact future design thinkers while mobilizing your community vibrancy efforts!
Sprintbase™
Drive continuous innovation and collaborate anywhere with the intuitive design thinking platform Sprintbase™.
Ignite Leadership Retreat
Ignite your team with alignment, strategic focus, and inspiration to perform during an all-inclusive 1-day leadership retreat.
Design Sprints
Devise, test, and solve big challenges in only five days. Get creative and chart a course for success.
Graphic Recording
Kick-start the creative process with graphic recording services, where ideas are visually captured in real time.